Jamaica One Love
Save up to 40%, Exclusive Perks & More*
With a myriad of things to do in Jamaica, it's simple to create experiences for all types of travelers. Whether a dream vacation means exploring nature from rivers to mountains, feeling the thrill of adventure, supporting community tourism within a vibrant culture, enjoying a blissful romantic rendezvous, or endless fun for the whole family, this is truly it.

The island of Jamaica has so much to offer! Envision yourself here: the glow of the golden sun warming your face, the sway of trees as gentle breezes caress the green landscapes, the calming whisper of water waves. Can you see? Can you hear it?
For all health and safety protocols, click here.
CULTURE
Jamaica is best experienced through your senses. Taste homegrown spirits at the Appleton Rum Experience and Hampden Rum Estate. Inhale aromas sizzling on Scotchies' pimento wood fire. Feel pulsing vibrations of reggae and dancehall blaring through sound systems. Immerse yourself in the Rastafarian way of life.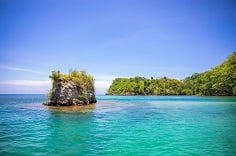 NATURE
Explore postcard-perfect beaches brushed by the azure Caribbean Sea. Refresh under flowing cascades at the world-famous Dunn's River Falls. Elevate to the Blue Mountains, Jamaica's first UNESCO World Heritage Site. Or perhaps a bicycle tour to reveal scents, sounds, and sights you can only experience in Jamaica.
ADVENTURES
Feel the wind on your face while gliding on Mystic Mountain's rainforest zip lines and bobsled. Inspire awe and curiosity at the expansive Cockpit Country and Green Grotto Caves or even get up close and personal with crocodiles in their natural habitat at Black River Safari.
ROMANCE
The sultry images of tropical landscape paint a picture that easily inspire romance. It's no wonder Jamaica is a favorite destination for couples looking to take their relationship to a higher level.
FAMILY FUN
A hassle-free getaway at an all-inclusive resort is a popular option for families in Jamaica. Bottomless meals seared with island spices and numerous activities packaged in one place leaves you free of worry so you can completely enjoy island life and get out there for memorable experiences as a family.
Agent Rewards and Recognition
Waves™

- Earn points on every booking across all Apple Leisure Group®

Vacations brands.
Wavemaker™

- With enough points, you'll qualify for our four-tier agent recognition program.

Earn more with our Hotel Partners
Click here to view our hotel incentives

or
Tyus Tours & Travel
866-547-5362
Tyus Tours & Travel strongly suggest
To protect your investment
Learn how to travel
Call 866-547-5362 for more information or to book today! Mention code 15018350
Wholesaler

United Vacations
Active/Adventure

Sailing
Scuba Diving
Sea Kayaking
Urban Adventure
Water Skiing
Sports/Outdoors

Beach Volleyball
Tennis
Cultural/Educational

Dance
Festival
History
Music
Photography
Shopping
Disclaimer

Tours operated by United Vacations®. *Offers, booking window, and travel window vary by hotel. Terms, conditions, restrictions apply. Information is accurate at time of publication and is subject to changes, exceptions, cancellation charges and restrictions. Not responsible for errors or omissions in the publication of this information. Valid for new bookings only. Bookings are subject to the current United Vacations®'?terms and conditions. United Vacations® materials (including, but not limited to, names, trademark, service marks, logos, marketing materials, etc.) shall not be used, reproduced, transmitted or distributed in any way, except with the express written consent of United Vacations®. CST# 2139014-20.